Product Detail
Product Tags
Main benefits
Extensive product range
Available in aluminium or steel
Medium duty to ultra heavy duty, to cover all types of installation.
Extensive selection of fittings, covers and accessories
Reliable: Cable tray systems open design eliminates moisture buildup and reduces damage to cable insulation during installation.
Adaptable: As new technologies develop or new needs arise, count on full adaptablity from a cable tray system because cables can enter or exit at any point.
Maintain with ease: Because cable tray systems are easy to inspect, maintenance requires less time, and there is less susceptibility to fire loss.
wire mesh basket trays
wire mesh basket trays are a budget-friendly alternative to other cable management solutions for supporting groups of cables. WireRun Cable Trays can be installed either in a ceiling, in a raised floor or along a wall with brackets, and are easily altered to make turns to complete to path.
Get all of the benefits of routing cables in a tray system without going over budget
Tray grids are made of galvanized steel to resist corrosion and still be trimmed to size with steel cutters
Single bars can be cut off to make either make drops or turns, or to join with other trays of different widths
Trays can be suspended either in the ceiling, in a raised floor, or mounted along walls with optional kits or brackets
Open design suspends electrical and network cables from support beams or routes them above drop ceiling systems, but still allows for additions or changes in the future
Ventilating grid pattern allows for air circulation and also prevents dust, debris and other contaminates from becoming trapped inside the tray
Electro zinc-plated galvanized steel helps prevent corrosion from chemicals or humidity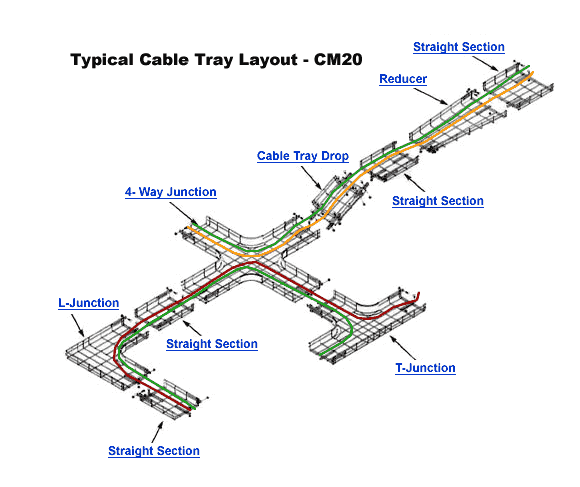 Quick Turn Basket Tray
QuickTurn™ prefab fittings save time and money. Cutting fittings for your basket tray installation is labor-intensive and time-consuming. It can also undermine proper grounding. That's why, in addition to straights, QuickTurn system features a full array of factory-made fittings for turns, T's and elevation changes. QuickTurn eliminates on-site fabrication and grounding worries, allowing you to install fittings up to 80% faster. And that can make it easier for you to turn a profit.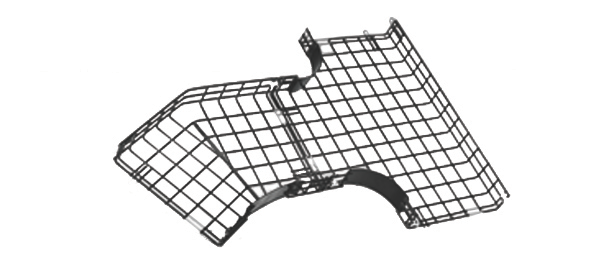 Fittings made simple.
QuickTurn™ factory-made straights and fittings make installation and cable running easier.
• One-tool installation—simplifies the entire process
• A fitting for every need—streamlines work flow and materials handling
• No cutting—eliminates waste
• Low-resistance corner plates—makes pulling cables fast
Safety built right in. QuickTurn™'s integrated grounding loops ensure that proper grounding connections are made every time.
Durability inside and out. Its high-strength basket design provides structural integrity. And its special post-fabrication powder coat protects all welds from the elements.
A turn for the better. Where do you want to go? QuickTurn™ can take you there, providing a higher level of versatility and control.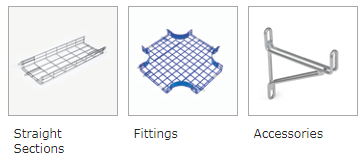 Perforated Cable Tray
We offer a wide range of perforated cable trays which are fabricated using quality raw material such as GI aluminium. These perforated cable trays are offered in different types, generally fabricated in mild steel. As per the client's requirements, we can customize our perforated cable tray range in following modes:
Grey color enamel paint or powder coat
Fabrication in pre - galvanized steel or hot dip galvanized
Every piece of our perforated cable tray has an average length of 2500 mm. As per the client requirements, we can also manufacture flanges of the tray. Moreover, we also develop various accessories for our range which are used for support & installation of cables over the cable trays. The accessories are mentioned below:
Clamps
Connecting Pieces
Slotted Angles
Features:
Corrosion Resistance
Simple Usage
Durability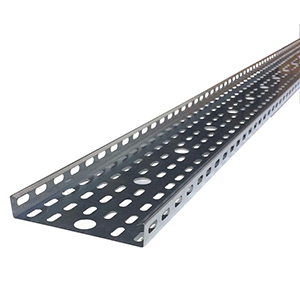 Ladder Cable Tray
Cable trays provide a support system for managing cables in a Building or other places. Cable tray installation provide instant approach to maintain and replacement of cables without any difficulty. They give excellent ventilation and enhance life of cables.
Our company offers a precision engineered range of steel ladder cable trays which are renowned for their attributes such as strength and high capacity. Our range of steel ladder cable trays are manufactured using mild steel, stainless steel and aluminum which are in compliance to various international standards and specifications. Ladder type cable trays are ideal for heavy duty power distribution in industrial facilities.
Features
Corrosion Resistance
Simple Usage
Durability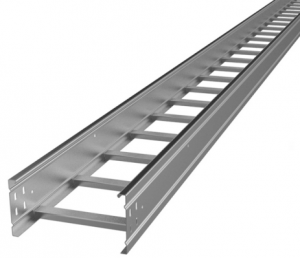 Cable Tray Accessories And Support
We fabricate a wide range of cable tray accessories using quality raw material and advanced technology ensuring complete satisfaction at clients end. Our range of cable tray accessories are used along with a ladder-type cable tray that has a pair of parallel spaced apart rails that are interconnected by a plurality of rungs. Every plurality of hangers has a partly enclosed area which is configured & dimensioned to receive minimum 1 cable. Each plurality of hangers includes a support bracket which is integrally formed as an addition which ensures proper removable by attaching hanger to minimum 1 of the pairs of the spaced apart rails of ladder-type cable tray.
Our cable tray accessories includes
An elongate flexible spine member selectively bendable into a number of different configurations
A plurality of spaced apart hangers attached to the elongate spine member along the length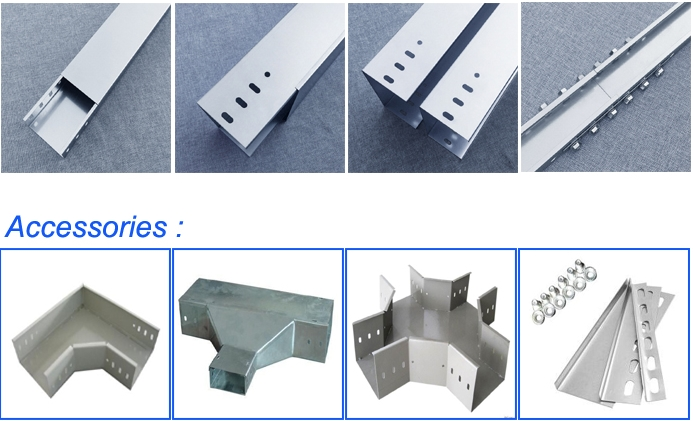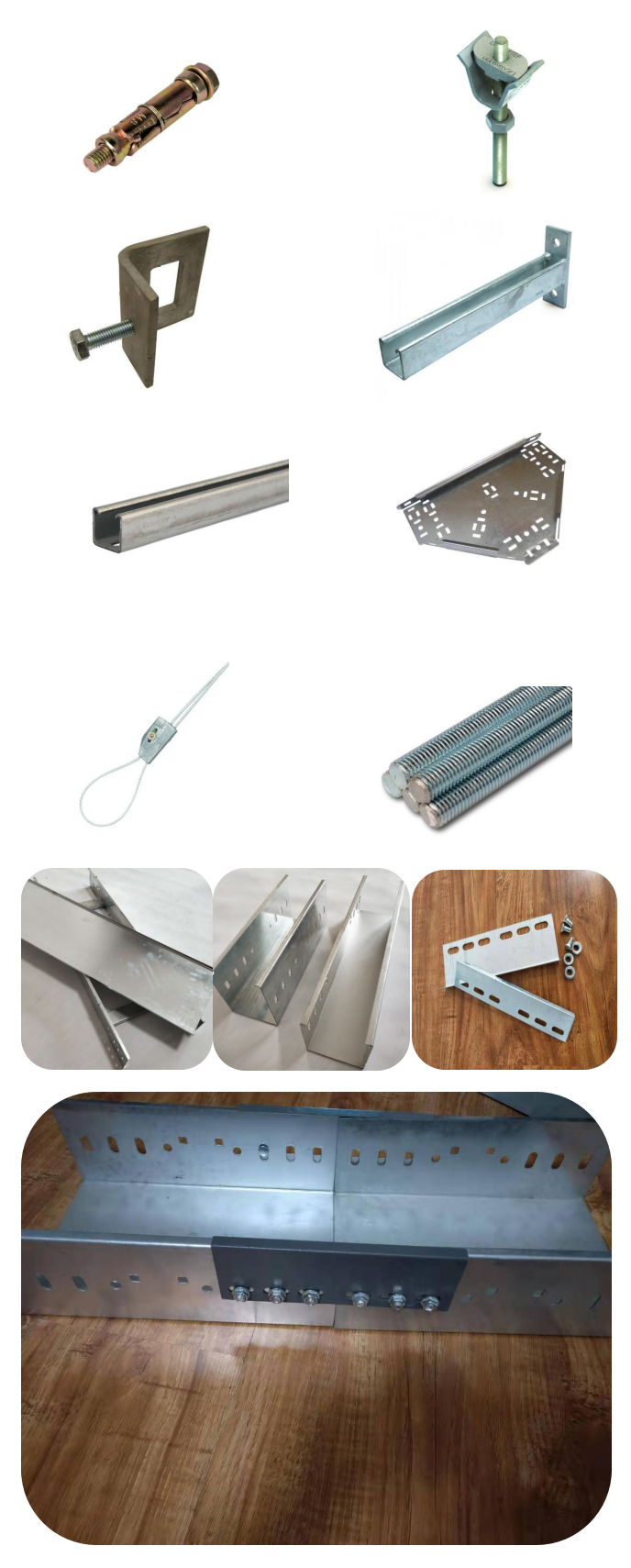 ---
---